I get a lot of hits on this blog from people who are googling 'bleached black hair turned orange'. I have been blonde from extremely dark brown for about 6-ish months now, and I thought I'd write another post explaining how to achieve it.
This was my hair before I started (please excuse the sunburn!)
The first thing you're going to want to do is buy a bleaching kit. They are also known as pre-lighteners. You need the highest strength one there is. Something like this:
Now, if your hair is very very dark or black, this is probably only going to take it to orange. This is because when hair is being lightened, it goes through several stages. Some people, like myself, have hair that is so stubborn that even when I got it to blonde, I could never get it to platinum blonde. If this is you, accept your fate!
(To maximise the lifting, wrap your hair in clingfilm. The warmth helps it to work faster. Bleach won't do anymore to your hair by leaving it on for longer than the box says. It just stops working.)
Now, if it's turned orange, don't panic. A hell of a lot of girls (and probably boys!) have been in this situation. You have a few options: dye your hair an ash blonde and hope for the best (make sure the hair dye doesn't say that it can't be used after a pre-lightener; quite a few of the L'Oréal Préférence ones say this), put up with it and wait for a few weeks and do another bleach, or do another bleach straight away. I know this sounds scary and I am not endorsing it! But I did this and it sort of worked. Ish. I have very strong hair and I knew it could withstand it – if your hair is in bad condition or very fine, please don't do it again until at least a few weeks have passed.
What I then did was got a hairdresser friend to put some blonde highlights in my hair, and over the course of a few months she did progressively more and more for me, until I could take over from her. You can of course do this yourself with a home highlighting kit and a cap, or just shove a whole head dye on. It's very important to do ash blonde at this stage, as it helps to counteract the orange.
Throughout this stage, my hair was still retaining a very red tinge, despite the ash blondes I was highlighting with. To help combat this, you need purple shampoo or toner! Purple is opposite orange on the colour wheel, which is why it works. I use two products that I highly recommend:
Pro:Voke's Touch of Silver shampoo. You use this twice a week and leave it on for five minutes. It's very cheap and smells heavenly. If you use this, I recommend washing your hair once beforehand, which helps it to lather up. Then go mad with intensive coniditioner afterwards.
(EDIT 10.07016: I now prefer Fudge's Clean Blonde shampoo. I buy it in a big 1 litre bottle and use it once a week.)
The other more expensive choice: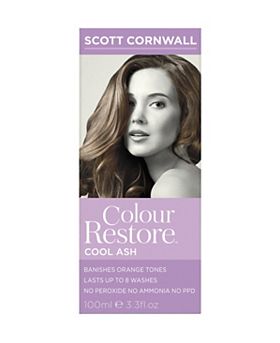 Colour Restore in Cool Ash. This is expensive but lasts quite a while and makes your hair much softer than the above, but they both work equally as well. I think this one can only be bought in Boots.
(EDIT 10.07016: I still use this, but I now use the Iced Platinum variant instead.)
By this point, my hair was this colour:
A sort of golden blonde, I think you'll agree. But I wanted BLONDE blonde, so I did another bleach. Slight mistake. This is where learning your skin tone comes in handy; you're either cool or warm (a few people are neutral). I'm warm. If you look better in earthy tones, orange, gold; your veins on the inside of your arm are green; your skin has a slight yellow tinge, then you're warm. But if you look better in bright blues, pink and silver; the veins on the inside of your arm are blue; your skin is pinky – you're cool.
Cool skin tones look better with ashy, pearl and platinum blondes; warm skin tones look better with golden blondes.
The bleach finally turned my hair a pale banana shade:
ARGH! *screams*
I put another dye on it (Clairol Nice'n'easy Baby Blonde), and it was more acceptable:
But I wasn't in love with it.
SO THEN I got a Clairol Nice'n'Easy medium ash blonde: STAY AWAY. It is brown with a sort of strange blonde tint. Vile vile vile. I panicked, and we went to Boots to get this: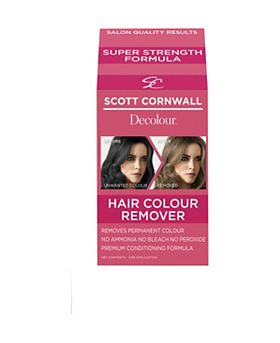 Another Boots only, overpriced product. It smells like rotten eggs and your hair will smell like that even after washing your hair every day for seven days, but my GOODNESS, it works a bloody treat!
And then it seemed my hair journey was over! Initially, the Decolour Remover took my hair back to its pale banana yellow shade, but over the next few days it progressively darkened until I fell in love with the colour! Complete fluke; it even matches my eyebrows! (I'm naturally a light mousy brown with blonde highlights, in case you were wondering.)
It's quite a bit darker and more golden, and I think it complements my skin tone a lot better this shade. I found an exact match to this colour in the form of Garnier's Olia in 8.0 Blonde.
I'm still figuring out all the different blondes on offer, but know I will always now stick to darker golden blondes (though the age old wisdom of going for the lighter out of the dyes you're choosing from still holds true!)
Another good tip I learnt in my hair colouring journey is that the numbers on boxes of hair dye? They actually mean something!
So, here is your standard level chart:
1 is the darkest, 10 is the lightest. This chart also shows you, on the right hand side, the colour your hair goes when you bleach it. Those are all the levels it needs to go through, which is why bleach on black hair usually stops at orange, because it's stopped working at that point.
The numbers are called levels of lift – the general recommendation is to not try to attempt to dye your hair more than two levels, because it won't work.
As you can see, the hair dye I recommended a little further up was a number 8.0 – on the chart that is a 'light blonde'. So that is what it means! My roots are probably a 5 and my roots didn't take perfectly, (they went slightly gold which is to be expected when you look at the right hand side – thank god for purple toner!) but still good enough that you can't see the difference unless you're very pernickety like myself.
The first number on a hair dye's box is the level of lift. The numbers after the point denote what kind of tone it is – is it golden or ash? A .0 means it's neutral. (Sometimes they don't have a point.)
Here is a chart I lifted off the L'Oréal site:
Now you can see what all the numbers mean. When my hair was Christina Hendricks' red, the dye number was 74 = 7 is a dark blonde, and 4 is copper.
Now I cannot say with any certainty that this numbering system after the point is the same for all companies, and you'd be better off googling or going to a Sallys and grabbing a shade chart. But those are the basics!
I hope I have helped given you some insight into what to do if your hair colouring journey goes wrong. First of all: don't panic. You're not alone! Second of all: condition that hair like your life depends on it!
If you have any questions please ask away as I have been there with orange hair TWICE now.
Happy colouring!
UPDATE 10.07.2016
So I've been dying my hair blonde for a fair few years now, and I eventually realised that box dyes just weren't doing the job. I now use professional products that can be bought in Sally's or online. My current colour of choice is quite ashy and it's Wella Koleston 12.81. You mix one part of this to two parts 30 or 40 vol developer. I use 40 vol, but a lot of people advise against this. I just appear to have bloody strong hair!
The 12.81 is called 'Special Blonde' and it's a high lift – it lightens your hair more levels than a standard dye. Because of this, I can get my hair to its current colour without the need for bleach. Win-win! Of course, I cold achieve a proper white blonde if I used bleach, but I'd rather keep my hair in ok-ish condition.
This is my current hair using the above products:
Again; happy colouring!